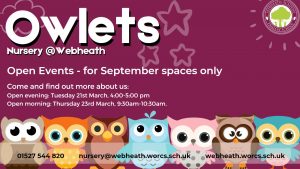 You can contact Owlets Nursery here: nursery@wps.shiresmat.org.uk
The Owlets group is led by Mrs Smart and her experienced, qualified staff who provide pre-school activities for up to 30 nursery children. The group is extremely popular and places are taken up very quickly.
If spaces are available, your child can start at our Nursery the term following their 3rd birthday.  Universal Nursey funding of 15 hours per week is available for all 3 and 4 year old children.  Some 3 and 4 year olds may be funded for up to 30 hours per week by the Government (if eligible) for up 38 weeks per year, which may be shared between different settings if necessary.  For details please visit www.childcarechoices.gov.uk.
If you are required to pay for nursery fees the cost is £5.00 per hour.
In order to register an interest in our nursery, please complete and return the register of interest form below.
Register of Interest for Nursery Form
We find that children who have attended our Nursery group do find it easier to transfer and settle into school life. Our group uses the school campus and all facilities, making integration even easier for those who enter our Reception classes. We also do many joint activities with the children and staff in the Reception classes and attend some of the school events.   Please note that attending our nursery does not guarantee a place in Reception (see School Admissions Policy here).
Nursery Sessions
Children are invited to attend on a full-time or part-time basis.  Session times are as follows:
Morning session – 9am to 12pm (3 hours)
Afternoon session – 12pm to 3pm (3 hours)
Full day – 9am to 3pm (6 hours)
Full week = 30 hours